Embrace a Well-Rested School Year with Save on Mattresses' Back-to-School Sale!
Embrace a Well-Rested School Year with Save on Mattresses' Back-to-School Sale!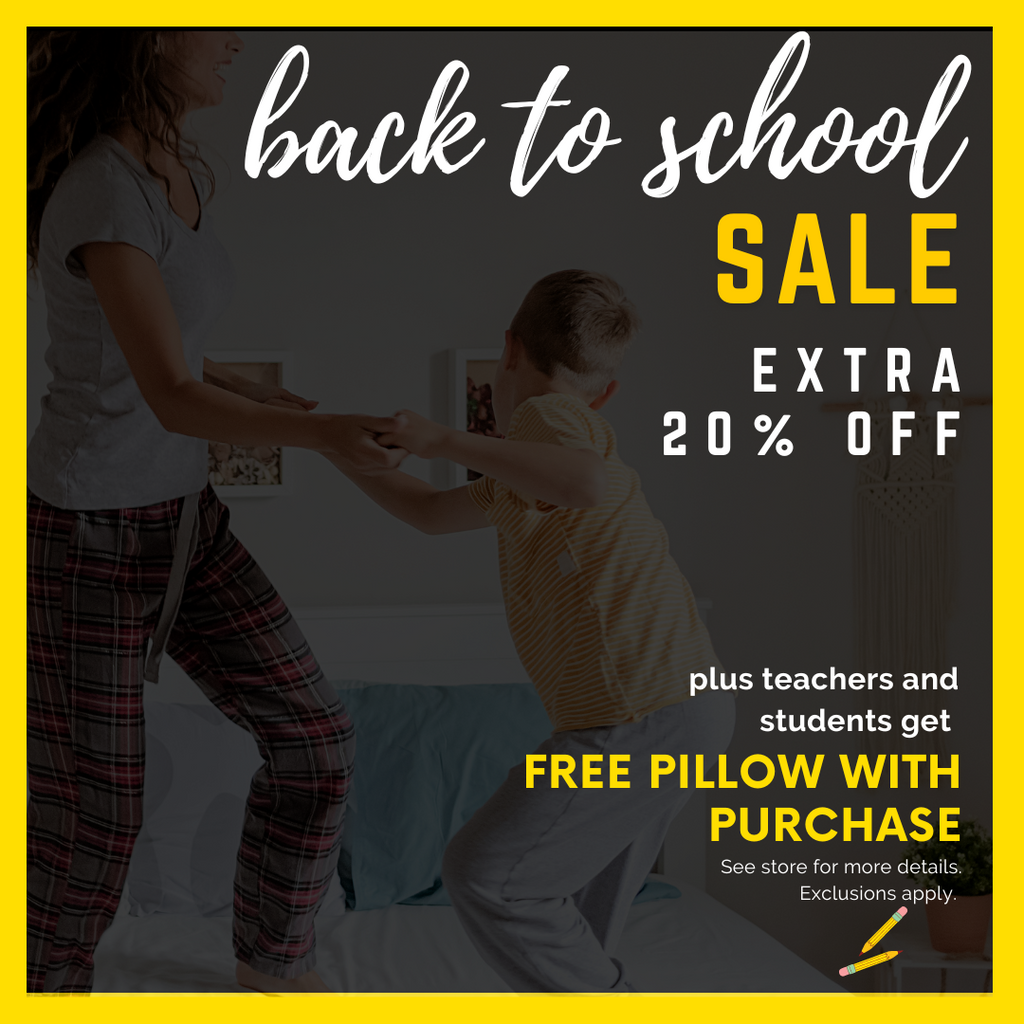 As the back-to-school season approaches, students and teachers alike find themselves immersed in the excitement of new beginnings and fresh opportunities. Amidst the flurry of books, stationery, and schedules, one crucial aspect often gets overlooked – a good night's sleep. Save on Mattresses is here to ensure that everyone starts the school year on the right foot with our exclusive Back-to-School Sale, offering a chance to save big and sleep better.

Save 20% Extra on Mattresses and More

There's nothing quite like sinking into a comfortable mattress at the end of a busy day. At Save on Mattresses, we understand the significance of quality sleep, which is why we're thrilled to announce our Back-to-School Sale. From memory foam to hybrid designs, our wide range of mattresses ensures that you'll find the perfect fit for your comfort needs.

During this limited-time offer, you can save an additional 20% on all mattresses and bedding essentials. Whether you're looking to upgrade your current mattress or set up a cozy bedding ensemble for your dorm room, this sale provides an excellent opportunity to invest in your sleep quality. A restful night's sleep not only boosts your energy levels but also enhances your focus and productivity during those demanding school hours.

Exclusive Gift for Students and Teachers

As a token of our appreciation for the hard work and dedication that students and teachers put into their academic pursuits, we're excited to offer an exclusive gift. With every purchase made during the Back-to-School Sale, students and teachers will receive a FREE pillow. We believe that the right pillow is an essential component of a comfortable sleep environment, and we want to ensure that everyone has access to the sleep essentials they deserve.

This free pillow offer is a small gesture to show our support for the educational community. Whether you're an eager student ready to tackle new subjects or a devoted teacher inspiring the minds of the future, a good night's sleep is crucial for a successful academic journey.

Creating Your Dream Sleep Sanctuary

Your sleep environment plays a significant role in the quality of your rest. Beyond mattresses, our Back-to-School Sale extends to a variety of bedding essentials that can transform your sleeping space into a cozy haven. From luxurious sheets to supportive pillows and stylish duvet covers, you can curate a sleep sanctuary that reflects your personal style and comfort preferences.

Don't Miss Out – Act Now!

The Back-to-School Sale at Save on Mattresses is a limited-time offer, so now is the perfect time to take advantage of these incredible deals. Investing in a high-quality mattress and comfortable bedding is an investment in your overall well-being and academic success. Remember, a well-rested mind is better equipped to absorb knowledge, stay focused, and tackle challenges with enthusiasm.


As the back-to-school frenzy begins, it's essential to prioritize your sleep quality alongside your academic pursuits. Save on Mattresses' Back-to-School Sale invites students and teachers to seize the opportunity to save 20% extra on mattresses and receive a free pillow with every purchase. With these incredible deals, you can create a sleep sanctuary that nurtures your well-being and supports your educational journey. Don't miss out on this chance to start the school year well-rested and ready to conquer new horizons! Visit any of our 4 Houston locations or online at www.saveonmattresses.com before August 28th 2023 to experience the comfort and quality that Save on Mattresses has to offer.